ClearContext v5.1— Great New Features and Big TWC Impact
Dear Outlook Users: I am releasing my next Outlook newsletter a bit early because of some exciting news: ClearContext 5.1 Outlook add-in software was just released, and I think you should take a serious look at this update.
Background: What is ClearContext? ClearContext, for those who may not know, is a third-party add-in software module for Outlook that I have recommended for years. It adds color coding to incoming e-mail (to show you the importance of mail). And it adds convenient tools like a Task button, which automate many of the Total Workday Control (TWC-MYN) efficiency processes. A few years ago I partnered with ClearContext to create the MYN Special Edition of ClearContext—a version that adds all my custom Outlook configurations and views (go to that link to learn more or to download it).
So 5.1 is now available, and while I don't normally get excited about a dot release of any software, this one is like a whole new version. The feature changes are certainly big, but I am especially excited by some changes that are very important to TWC-MYN users. Let me explain.
New Single-Folder Filing (Auto Processed Mail Folder)
The biggest news is that ClearContext v5.1 now supports my TWC-MYN single folder filing approach—the approach I have recommended for years in my books, but that you previously had to do manually. You can now use ClearContext to automatically file multiple topics into one folder (normally called the Processed Mail folder) when assigning the topics. You do this using new and existing ClearContext filing tools—tools that contribute to this software being so powerful. Here are some examples:
You have multiple tools to manually assign topic (project) names to e-mails, tasks, and appointments that are easier to use than the corresponding category assignment tools in Outlook. You can now file into the Processed Mail folder while using these.
When you use these tools, ClearContext makes intelligent suggestions on which topic you may want to file into—that way you can avoid scrolling through a long list of topics to pick the right one.
You get automatic assignment of topics to all mail in a thread (conversation).
You can create simple rules to auto-assign topics (and optionally file) based on sender, subject name, or mail content; these rules are far easier to create than the native Outlook rules, and they are not subject to the Exchange rule-count limitation.
ClearContext gives you the ability to easily assign topics to outgoing mail. This includes optional reminders to assign topics when you click Send.
And you can have optional reminders to assign topics to newly created tasks and appointments.
Again, the key point is that these tools can now be used to both set various topic names and file mail into the single Processed Mail folder—both in one step. See a complete discussion of these tools in this part of my new online user guide and in this section of the ClearContext user guide. And see Lesson 5 of my book Total Workday Control Using Microsoft Outlook, 2nd Ed, for more details on the single-folder filing approach and all the great reasons to use it.
Now, to enable this, there is a simple configuration to make in ClearContext—it activates the new single-folder filing feature. Users who download or purchase the MYN Special Edition of ClearContext have that setting made for you automatically. If you need to change it manually, instructions are shown in this section of my online users guide—you'll see there that it's quite easy.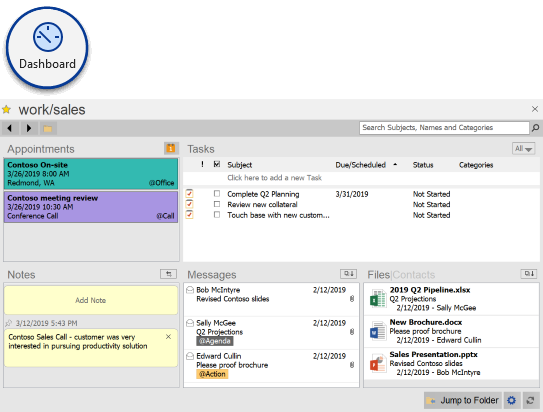 Sidebar Dashboard and Project View
The other new feature in v 5.1 is the Sidebar, which replaces the older Dashboard view of previous versions. In those previous versions, the Dashboard was (in my opinion) a bit clumsy to use and of limited value. In contrast, the new Sidebar is very good.
My favorite part of this is it provides an optional Projects tab that allows you to view all tasks and appointments for a give topic (project). This is a fantastic way to focus on what's up for a particular activity. And unlike the previous Dashboard, the Sidebar pops up to the right of the main Outlook window (and to the right of the To-Do Bar in Outlook 2007 and 2010), without hiding anything—much better for an integrated view of your work. See this page on the ClearContext online user guide for more discussion.
New Features in v5.0
All these fantastic new v5.1 features are on top of the powerful new features of v5.0—the version released a few months ago. If you have not upgraded to v5 yet, this new v5.1 release makes the upgrade decision a no-brainer. Let me briefly cover those new v5 features you may have missed—they are very good.
New E-mail Color Coding. Color coding of incoming e-mail based on contact priority has been a long-time feature of ClearContext, but I always turned it off. Why? Because there were just too many colors in earlier versions and the lighter ones looked like read mail (even if unread)—I found it confusing. In v5, ClearContext greatly improves this. There are now only two colors, and in this case less really is more. The feature is now very clear and very useful, and I use it extensively.
New Projects focus for tagging. In v5, ClearContext changed the name of the tagging and filing facility built into the software from "Topics" to "Projects." While functioning similar to before, the new name now takes a much more activity-based slant to Outlook. I like it—it adds a "get-it-done" focus to the product.
A Projects focus for tasks and appointments. More emphasis is now placed on tagging tasks and appointments with project names. Combined with the new v5.1 Projects tab in the Sideboard, this gives you a truly unified look at your project activities.
Category field for Projects. In the past, ClearContext stored and displayed the topic assignment in a custom field (called topic). Now, the native Outlook Categories field is by default used to display the equivalent project assignment. You see, in earlier versions, you had to configure ClearContext to mirror topics and categories to get this benefit and it was a bit clumsy. Now, with the Categories field as the default place for project names, you have many advantages (and some cautions). Read more about that here.
Easier assignment/filing controls. The new Project assignment popup you use in 5.1 was actually introduced in v5. This tool is even better in v5.1.
Support for a wider variety of filing locations and multiple machines. In the past there were limits on where you could auto-file your mail using ClearContext. Those limits have now been virtually blown away. You can use public folders, SharePoint locations, and personal folder files, as well as shared versions of these accessed by multiple computers. Scroll down to point 7 at this ClearContext page for more.
Read here a great summary of both v5 and v5.1 features at the ClearContext website. But it you want the TWC-MYN version, don't use the Download button there; instead, download the MYN Special Edition here.
One other thing; the write up in my Outlook book about filing mail with ClearContext is now out of date since it references v4 of ClearContext. So avoid those paragraphs. Refer instead to my online users guide—the one I mention above.
That's it! The new ClearContext v5.1 software release of last week is a huge improvement in an already solid piece of software. I encourage you to try it out today. Again, go to this page to download the TWC-MYN version (which adds tons of extra views and configurations that match my book processes). Or go to this page if you want the base version ($10 less when you decide to buy). In either case, you'll get fantastic new tools to aid your productivity.